NUTRITIONAL AND SUSTAINABLE SOLUTIONS
We are a global expert in animal nutrition solutions. Our products are natural, healthy and sustainable. Our long history of producing quality cattle feed has provided an advantage in the production of premium natural ingredients that pet food manufacturers can trust by providing them with high-quality protein and custom fats that will increase the quality of their product and they will be sustainable.
HEALTH AND NUTRITION
Health and nutrition are the essential basis of our R&D work, focused mainly on raising the quality of life for animals.
We have state-of-the-art laboratories and our scientists are mainly focused on guaranteeing food safety as well as the palatability of our proteins and fats.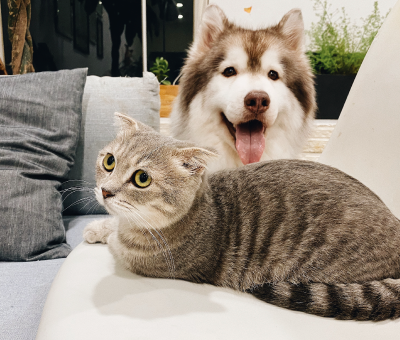 BENEFITS FOR YOUR PET
Premium essential nutrients
Natural products
Consistent quality
MANUFACTURER BENEFITS
Fully traceable
Wide range of options
Customization to customer specifications
Add sustainability, reduce carbon footprint
COMPANIES ASSOCIATED WITH THE GROUP
COMMITTED TO THE ENVIRONMENT AND THE CIRCULAR ECONOMY